After knitting for a while, I got it into my head that I had to make a sweater. After all, what self-respecting knitter doesn't prove her prowess with a full knitted garment?
The problem was, I didn't really
like
sweaters very much, so it took a long time to find one I wanted to make. One that wouldn't be horrifically unflattering. One that wouldn't make me schvitz to death. One that would actually be worth the time it took to make.
I finally found my answer in
Hip Knits
: the True-Colors Zip Up. Even if I didn't end up liking it, it was knitted on US 13(9mm) and 15(10mm) needles, perfect for my short attention span.
I used the Patons Melody (68% acrylic 32% nylon)recommended in the pattern but substituted triple-stranded Lion brand Microspun (100% microfibre acrylic) for the triple-stranded Patons Look At Me (which I had never even heard of before). I've changed to a dull blue zipper instead of the shiny black one pictured here, which was actually a bit too long and made the front pucker. I've worn it a few times, and it was really nice last winter when it was a lot colder here, but I wore it home to Chicago and left it there during winter break. I might be outgrowing my "garish pink" phase anyway.
Of course, after knitting my first sweater, I came to the conclusion that I
do
like sweaters after all. I had a formal event to attend last March, so I decided to knit a sweater for it. I chose White Lies Designs'
Milinda Pullover
.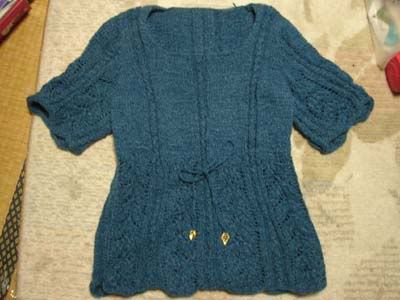 I used Olympus Alpaca Concerto, the same yarn as the blue Fetching from
a few entries ago
, (which were an attempt to use up the leftovers), JPN 8 needles (4.5mm, the same as US 7s, which the pattern called for).
Here's a detail of the lace: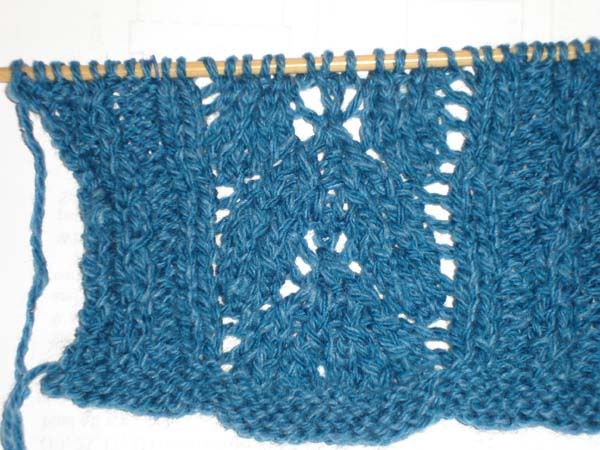 This pattern also started my love affair with short row bust shaping, but I think I'll save that for another installment.