In case you haven't noticed, I'm not exactly the slickest with a camera. Here are a couple FOs I made that didn't quite translate well to film (or a Sony Cybershot, as the case may be). One I could attempt to reshoot but eh, the other is no longer in my possession.
Here's my third hat based off the
Kittyville devil hat pattern
. I made my first a long time ago as my first experience with knitting in the round, and my second I styled after
Lum
from the series Urusei Yatsura (which is the hat I'm wearing in my profile pic). As an aside, since she's based after the
oni
, I wear the hat to school on
Setsubun
, and the kids love it (they always recognize the oni horns).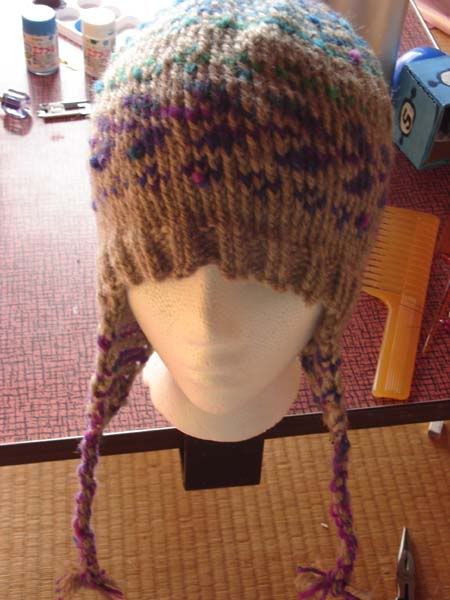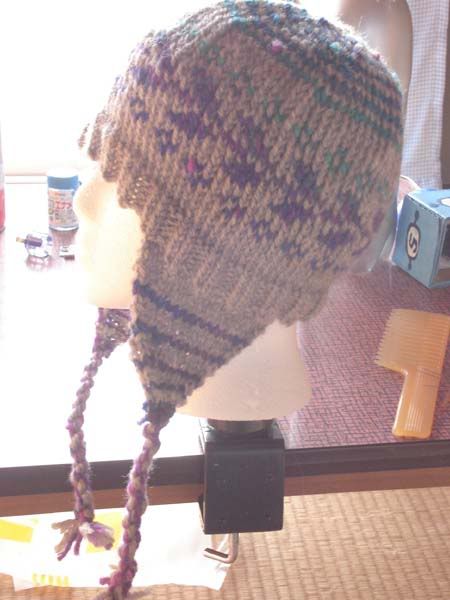 I knit the pattern as written on US 7(4.5mm)circs and DPNs, but this time I substituted a 2x2 rib for the seed stitch and knit the ear flaps in stockinette with garter stitch selveges to prevent curling, and on all of them I widened the ear flaps by 2 stitches. The ties are just twisted cords. I used Hamanaka Men's Club Master (60% wool 40% acrylic) that was left over from another project, and the variegated yarn is some type of Noro I got out of a clearance bin (without even realizing it was Noro, I couldn't read the kanji at the time. Had I known, I would have bought a lot more of it, it was dirt cheap). The fair isle pattern came from
Big Needle Knit Afghans
, and the stripes were on a whim.
Speaking of
Big Needle Knit Afghans
, I actually knit one for a friend of mine. My former coworker was pregnant with her third child, so I made the Morning Sunlight afghan for her: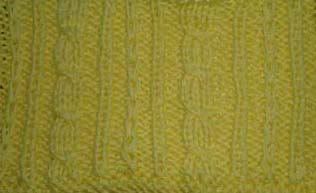 It's knit on US size 17 circs (to accomodate the stitches), triple-stranded Caron Simply Soft (100% acrylic and machine washable, a good idea for baby goods). Easy-peasy, not much to say about it. I took these photos before blocking it (which, in the case of acrylic, means throwing it in the washer to even out the stitches), so it looks a bit wobbly.