Ever since I made the Hurry Up Spring Armwarmers from Stitch n Bitch Nation, I've had a bit of a thing for armwarmers and fingerless gloves.
I'd post a pic of that first pair, but they're currently MIA somewhere in the house, so, um, I can't right now. I do have another pair I made though, using the same pattern but substituting the cable chart from
these gloves
.
They're made with Lion Brand Wool-Ease in some sort of "autumn" color. To put it bluntly, they're pretty ugly. The yarn looked much prettier on the skein, but when I knit it up, I wasn't crazy about how the colors turned out. I think that if each color had gone a bit longer, more like stripes, it would have had a nicer effect. Nevertheless, these unattractive armwarmers do keep me warm, and they're particularly nice to have at school, where there's usually only a heater in the staff room and not the classrooms.
I tried making a pair of Knitty's
Fetching
for myself out of some leftover yarn from a sweater I made last winter, but one of my friends really liked them, so I ended up giving them to her. I knit another pair as a present as well.
The blue ones are made from Olympus Alpaca Concerto, an alpaca/wool/acrylic blend.
The pink ones are made from Daiso Soft Type Tweed, an acrylic/wool blend I bought at the 100 yen store (see, I told you there was some nice yarn there).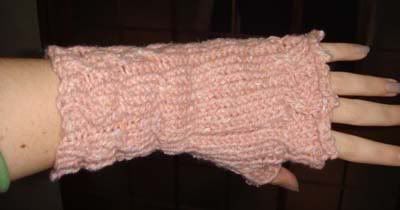 I modified the pattern by using US size 7s instead of 6s, simply because that's what I had. To compensate, I worked it over 40 stitches instead of 45, and the thumb is 15 sts instead of 17.
Yesterday I started working on a pair of Knitty's
Knucks
using a yarn called Applause, 100% polyester chenille, left over from a holiday present I knitted for a friend.
So far they've been a bit tedious, probably because the chenille is kind of a pain in the butt when it comes to picking up stitches and placing the fingers back on the needles. They're a bit bulky but very warm, and I think they'll also be great for unheated classrooms. That is, if I can get myself to finish them.